Welcome to The Kitchenizer!
The average American spends about 37 minutes a day preparing food in the kitchen, according to the United States Department of Agriculture. That number varies wildly across the different age and gender groups, and whether people have kids.
In fact, one key takeaway of that research is this: busy people spend less time preparing meals. So what do they do instead? They opt for a quick frozen meal, or worst, fast food.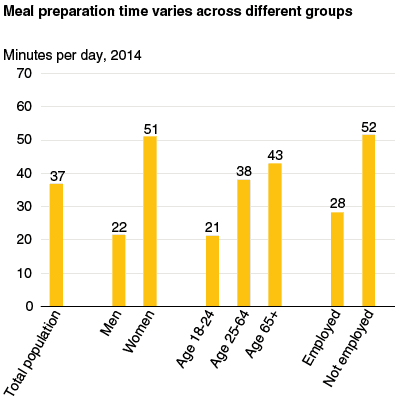 Let's face it, preparing a healthy meal at home IS time-consuming!
Even when we do our best to cook at home and eat healthily, we all have those cravings: french fries, chocolate ice cream, strawberry shortcake! What do we do when those demons knock on our door? We go out and pocket a heavy bill. But at The Kitchenizer, we believe there are other options.
What if you could stop spending so much time in the kitchen preparing food? Would you focus on spending time with your guests instead? Or with your kids? Or simply doing what you love?
What if you could get your fix of cravings right now at home, in your own kitchen, and save money doing so?
The Kitchenizer is all about helping you optimize your kitchen. We want to help you save time preparing food so that you can spend it on the things you truly love. We want to help you open up the possibilities of your kitchen so that you can make any food you'd like, and even better than at the restaurant!
How We Create Content
All the content you find on The Kitchenizer is planned and edited by the editor in chief to ensure the highest standards of quality. We do our best to fact-check all the content that we publish. We make great efforts to serve you as best as we can with accurate information and recommendations that you can trust.
While the editor in chief does write articles under his name, we also contract freelance writers to help us produce the volume of content needed for the site. All the content that we produce goes through multiple rounds of approval with the editor in chief to ensure that it meets our quality standards.
Regular writers are credited by name for their content and are officially added to the team on this page for as long as they are actively writing for us. You will learn to recognize their unique voice and personality as you navigate our articles.
We also contract occasional freelance writers to produce some pieces of content for us. We will typically put together articles based on the content that they produce, and edit it to ensure accuracy and to make the voice of the articles consistent with the rest of the site. These articles are published under the name of The Kitchenizer Staff.
How We Review Products You will notice that we review a wide range of consumer products on this website. The reason we're doing this is two-fold:
First, we want to provide you with accurate information to help you purchase small appliances that really help you get the most out of your kitchen. There's no worst feeling than getting back home with a new juicer machine expecting it to make the greatest smoothies in the world (you'd need a blender for that!).
Second, it helps pay the bills. We make a commission on most of the products we review if you decide to purchase through our links. This helps us pay for the maintenance of this website, and it allows us to compensate our writers and staff fairly. We are a business, and this is how we can generate our revenue. Whenever possible, we try to get our hands on the products we review. We often purchase the products directly from the store with money out of our own pocket. But sometimes, companies may send us samples to review. We will always be transparent and mention it in the review when this happens.
Due to budget constraints, we may not always be able to put our hands on every physical product on the market. When this happens, we forge our opinion of the product by reaching out to other people that have used it before. We gather their honest feedback, and we make sure to watch the product in action. This process ensures that the information we write about is accurate.
We then gather technical specifications from the manufacturer's website as well as the product manual. We format this information in tables that are easy to digest in each of our reviews.
Finally, we establish a rating system for each type of product we review. We try to rate all the products within a category in the same way so that you can more easily compare them.
Help Us Help You!
If any of this resonates with you, here's how you can get involved:
Follow Us on Social Media!
Join our community on your favorite social media. Let's stay in touch and share awesomeness in the kitchen!
Share Our Articles With Your Followers!
Spread the word and help us grow! Share your favorite content with your followers if you think it can help them, too.
Link to Us From Your Blog!
If you're lucky enough to have a presence on the web, consider adding a link to our site!
Tell Us How We Can Improve!
We're always striving to improve the quality of our content! If you think we can do better, get in touch or leave a comment. We won't stop improving until we're doing our absolute best to help you optimize your kitchen and pick the gear that's right for you.
Thanks for being awesome!
Phil Cooper
Editor in Chief